RESIDENT ATHLETE PROGRAM & U.S. ARMY WORLD CLASS ATHLETE PROGRAM (WCAP)
The NLWC Coaching Staff, comprised of Cael Sanderson, Cody Sanderson, Casey Cunningham, Jake Varner, Mark McKnight, and Eric Thompson select and recruit elite athletes to live in Central Pennsylvania and train at the NLWC's Olympic Regional Training Center where they practice in the Penn State Wrestling Room.This program is designed to provide the coaching, training environment, and financial support necessary for our athletes to compete for and win Olympic and World Championships.Over the past several seasons, the wrestlers in the Resident Athlete Program have enjoyed tremendous success on both national and international levels.
During the past season, Franklin Gomez (competing for Puerto Rico) represented the NLWC at the 2016 Olympic Games in Rio de Janeiro. Nico Megaludis earned gold and Matt Brown (wrestling for the U.S Army WCAP) earned bronze at the Bill Farrell International in New York City. Nico Megaludis and David Taylor both won gold at the Paris International. David Taylor led the U.S. team to a silver medal in the World Cup Championships in Iran. It was at this tournament that David had one of the top all-time performances by any wrestler in any competition when he went undefeated, defeating a 2012 Olympic Bronze Medalist from Georgia (8-3), a 2013 Junior World Champion from Russia (14-5), a 2012 Olympic Gold and 2016 Olympic Bronze Medalist from Azerbaijan (12-2), and in his final match, a 2016 Olympic Gold Medalist from Iran (pin).
In April, David Taylor won his weight class and earned the OW award at the U.S. Open National Championships. Although not Resident Athletes, Zain Retherford, Jason Nolf, and Bo Nickal represented the NLWC at the U.S. Open, and placed 3rd , 4th, and 4th respectively. At the Junior National Championships, Mark Hall represented the NLWC and won a gold medal and the OW award.
Just recently, under the NLWC banner, Zain Retherford won the U.S. Senior World Team Trials, and Mark Hall won the U.S. Junior World Team Trials. At the senior Trials, David Taylor finished second and Jason Nolf third to become members of the U.S. National team.
Although the 2018-19 competition schedule is not yet set, the Club's Resident Athletes will again be competing at a variety of national and international tournaments and training camps. The Club will keep all of its members and sponsors updated on these competitions via twitter, e-mail updates, and mailed newsletters.
Current Season's (2017-18) NLWC Resident Athletes
The NLWC currently has 8 athletes on the roster to train at the Club's Regional Training Center and to compete for the Club during the 2017-18 Season. Riley Lefever, Josh Rodriguez, and Ben Provisor have recently joined the R.A. Program in July, and more athletes may be added in the late summer/early fall.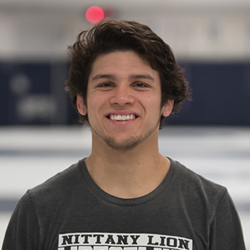 Josh Rodriguez (57 kg/125.5 lbs)
Josh joins the club after a successful career at North Dakota State University where he was a 3 time NCAA qualifier. The club is excited to add this exciting and explosive wrestler to our Resident Athlete Program. Josh is a native of Guadalupe, California.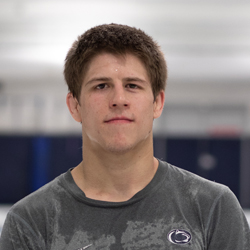 Jordan Conaway (61 kg/134 lbs.)
A 2X All-American and a fan favorite for his attitude and conditioning while competing for Penn State, Jordan joined the NLWC Resident Athlete Program in the summer of 2016.During his first season with the NLWC, Jordan worked on the transition from collegiate to freestyle wrestling.An excellent training partner at the Club's Regional Training Center practices, Jordan's first competition was the U.S. Open National Championship this past spring where he fell just short of placing.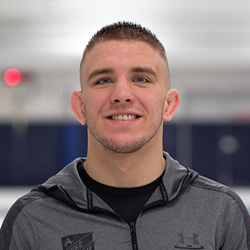 Zain Retherford(65kg/143.5 lbs.)
Zain joins the NLWC wresting club after wrapping up a successful career at Penn State University. Zain won 3 national titles and was a 2 time Dan Hodge recipient. In 2017 Zain was the world team rep for the USA World freestyle team, while not winning a medal Zain is looking forward to training through the cycle and competing for an many more Olympic and World medals.
Franklin Gomez (74 kg/163 lbs.)
A NCAA Champion and All-American for Michigan State, Franklin has been with the Resident Athlete Program for many years. Representing his native Puerto Rico, Franklin earned a silver medal at the 2011 World Championships, was a 2012 Olympian, competed at the 2013 and 2014 World Championships, and also competed last summer at the 2016 Olympic Games in Rio. Franklin has won or placed high in numerous other international tournaments along the way.Franklin is simply a tremendous wrestler, an excellent workout partner in the Club's Regional Training Center practices, and is a class act both on and off of the mat.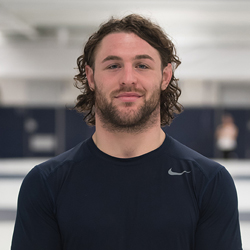 Ben Provisor (85 kg/187 lbs.)
Ben is our most recent new hire for the NLWC's resident athlete program, he is also the first Greco Roman wrestler the club has ever hired. Ben is a 2012 and 2016 Olympic team member, and also representing the United States in the most recent 2017 world championships. We are excited about adding a high level Greco wrestler to our club, and are excited to learn from him as well.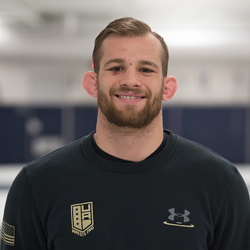 David Taylor (86 kg/189 lbs.)
David had an outstanding college career at Penn State where he was a 4X All-American, a 2X NCAA Champion, and a 2X Hodge Award winner, recognized as the most dominant wrestler in the country. Three years ago, he had an excellent season in his first full year of freestyle, winning several international tournaments and the U.S. Open National Championship, and finishing 3rd in the 2015 World Team Trials. In 2016, he made the jump from 163 lbs. to 189 lbs., and continued having success, finishing 3rd in the U.S. Olympic Trials.David won numerous tournaments and awards this past season including winning his weight class and earning the OW award the U.S. Open National Championships.At the recent 2017 World Team Trials, David dominated the mini-tournament to face 2016 Olympic Bronze Medalist J'den Cox who had a bye to finals by virtue of winning the Olympic Bronze last summer. They each split wins in the best of three series, before David dropped a very controversial final match. Overall, David had a tremendous 2016-17 campaign, and showed he is one of the top 86 kg wrestlers in the world.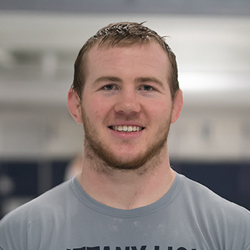 Riley Lefever (92 kg/202.4 lbs.)
Riley joins the Resident Athlete Program after graduating from Wabash College in Indiana this past spring. Riley finished his collegiate career with an outstanding career record of 158-6 and was a 4X Division III National Champion (only the 2nd wrestler to ever accomplish this feat) while twice winning the OW award at the National Tournament. Riley has had tremendous success at the collegiate level and has an excellent attitude and work ethic. He is looking forward to starting his freestyle career under Coaches Sanderson, Sanderson, Cunningham, and Varner.
OLYMPIC REGIONAL TRAINING CENTER AND RESIDENT ATHLETE PROGRAM COACHING STAFF
The coaches of the Club's Regional Olympic Training Center and Resident Athlete Program are so well known that they really need no introduction. In addition to their tremendous success as collegiate coaches leading the Penn State Wrestling team to numerous NCAA Championships, Cael Sanderson, Casey Cunningham, and Cody Sanderson have at the same time been very successful at leading the NLWC Resident Athlete Program and the Club's Regional Training Center.They were recently joined by former Resident Athlete, Jake Varner, who was a 4X NCAA finalist, 2X NCAA Champion, 2011 World Bronze Medalist, and 2012 Olympic Gold Medalist. Knowledgeable, disciplined, and extremely hard-working, these coaches set the example for the work ethic, training habits, and lifestyle necessary to win against the best in the world. Their leadership has been instrumental in the success of the NLWC wrestlers!
2018 - 2019 NLWC Regional Training Center Practice Schedule (Lorenzo Wrestling Complex)
Monday - Friday 2:00 p.m.
Saturday 9.00 a.m.
*Depending upon competition schedules, the days and times of practices may be adjusted.
NLWC Coaching Staff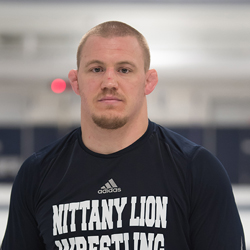 Jake Varner
A former resident athlete, Jake joined the NLWC coaching staff in 2016 and also became the Volunteer Coach for Penn State. Jake also serves as a Director on the NLWC Club's staff and performs many other duties for the Club. Jake was a 4x NCAA Finalist, 2x Champion, 2011 World Bronze medalist and won an Olympic Gold medal at the 2012 Olympic Games.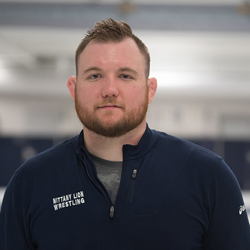 Eric Thompson
A former Resident Athlete, Eric rejoins the Resident Athlete Program after spending the past year as a coach at Lock Haven University. A former 3 time NAIA National Champion at Grand View University, Eric was one of the top heavyweights in the U.S. during his time as a training athlete, he was a 3 time Senior level All American. We are excited to have Eric back in the club to help develop our training athletes.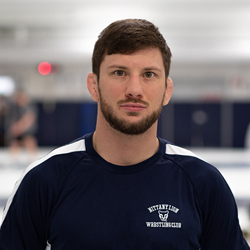 Mark McKnight
A former All-American for Penn State, Mark reached the 2012 Olympic Trial semi-finals at 57 kg/125.5 lbs. before dropping a close decision to the eventual champion. In 2013, Mark won a Pan American Games Gold Medal and placed 4th at the U.S. Open. Over the past couple of years, Mark has not actively competed, but has remained active with the Club's Resident Athlete Program and has been an excellent coach/workout partner for the other athletes at the Club's Regional Training Center. In addition, Mark has directed the NLWC scholastic programs, and his leadership has led these programs to new heights. Mark has also assisted with many other Club functions including the golf tournament, clinic, and tournament.